Theraderm Clinical Skincare Anti-Aging System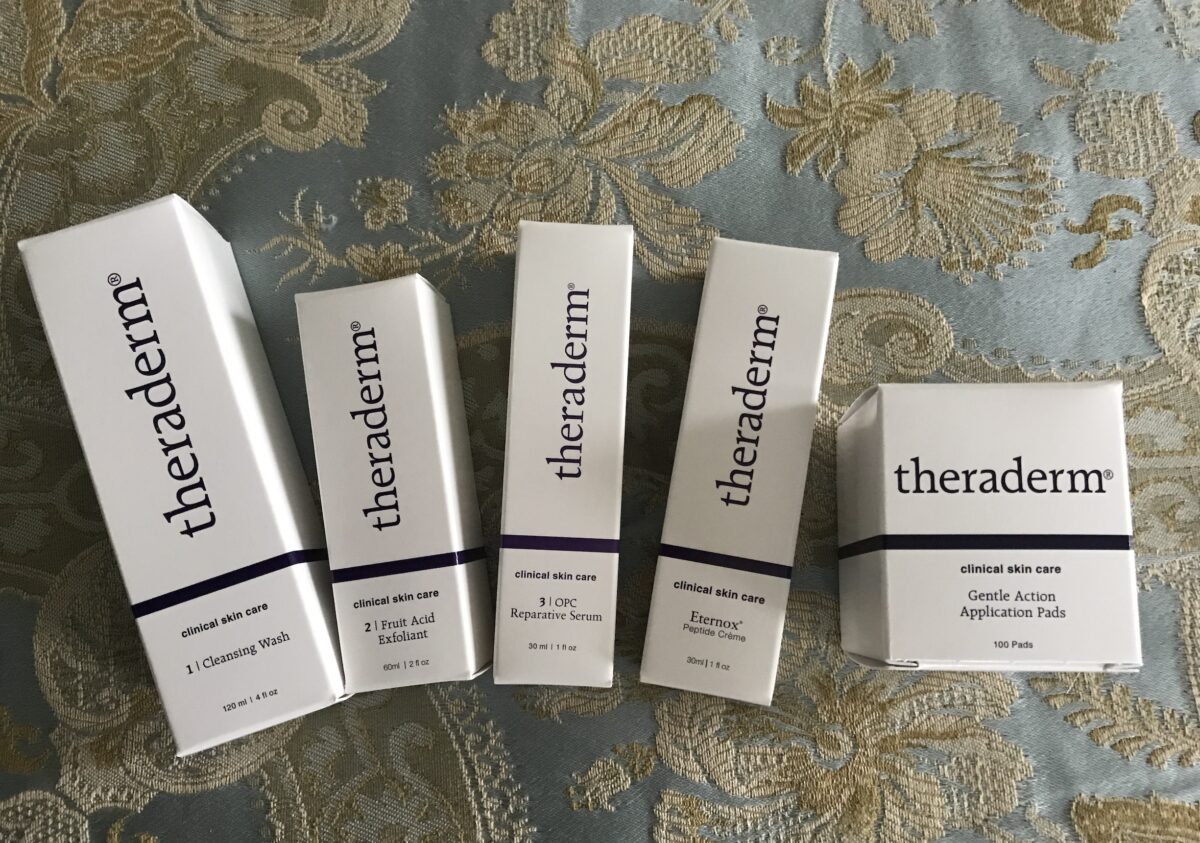 I've been using Theraderm Anti-Aging Lip Complex for a couple of months now, and I've had such good results with my finicky dry lips that I was eager to try some more of dermatologist Dr. James Beckman's skincare products (see my earlier post for more information on Dr. Beckman and the Theraderm brand).
For the past 5 weeks, I have been using Theraderm Anti-Aging System. The kit includes four of their signature products:
Cleansing Wash
Fruit Acid Exfoliant
OPC Reparative Serum
Eternox Peptide Cream
The system recommends using the quad twice a day, and I have been doing so. Actually, I have been using Theraderm Anti-Aging System on my face, and as I mentioned last Friday, I've been using City Beauty UpLifted Firming Serum and Multi-Action Sculpting Cream on my jawline and neck (reviewed here). No reason why the two systems couldn't get along side by side, or actually up and down. ?
The Anti-Aging System was designed to cleanse, exfoliate and protect skin from harmful free radicals.
Theraderm Cleansing Wash
Cleansing Wash is a clear gel that comes in a pump bottle. It is fragrance-free. While the gel goes on clear, when it mixes with the water on my hands as I rub it onto my face in a circular manner, it turns into a creamy lather. The Cleansing Wash is formulated to work with the pH of our skin. It is gentle, yet it does an excellent job cleaning my face of any makeup or sunscreen that my micellar water may have missed. It also does a great job removing dirt, since I've been working in my garden so much. It leaves no oily residue, just clean, non-stripped skin.
The cleanser is suited for all skin types. Cleansing Wash comes in two sizes: 4 fl. oz. ($26) and 16 fl. oz. ($56). The 4 oz. size is the one that comes in the Anti-Aging System, though it is sold separately as well.
Ingredients: Water (distilled), Sodium laureth sulfate, Cocamidopropyl betaine, Lauroamphoacetate, Sodium trideceth sulfate, Glycerin, Sucrose cocoate, Sodium chloride, Tetrasodium EDTA, Diazolidinyl urea, lodopropynyl butylcarbamate, Citric acid
Fruit Acid Exfoliant
Fruit Acid Exfoliant is a lactic acid toner that exfoliates dead skin cells, helps smooth skin, reduces uneven skin tone, minimizes pores, and provides an even surface in order to improve the absorption from other skincare products that are applied next. The exfoliant is applied with Theraderm Gentle Action Application Pads, ultra thin waffled pads, that are part of the Anti-Aging System. The waffled rayon and polyprolene fabric of the pads provide some extra exfoliation along with the liquid exfoliant. $9 for a box of 100.
Fruit Acid Exfoliant has a somewhat strong herbal scent that must be due to the lactic acid. Though I can't say it smells good, it doesn't linger once my skin dries, and it actually smells "therapeutic".
It is formulated for all skin types. I was quite amazed when I read that it is gentle enough to be used on the neck and even on the eyelids. But because I have such dry lids from blepharitis and sensitive eyes, I haven't tried it. But on my face and neck, I love it.
Fruit Acid Exfoliant comes in a 2 fl. oz. squeeze bottle, and it is priced at $48, if purchased separately.
Ingredients: Water, SD Alcohol 39, Propylene glycol, Lactic acid
OPC Reparative Serum
At first, I thought that Theraderm OPC Reparative Serum was a vitamin C serum, primarily because of its deep orange color. However, OPC stands for oligomeric proanthocyanidins which are a more potent (and more expensive) form of antioxidant than either vitamin C or E, and they are often derived from grape seeds.  OPCs have the following benefits for skin:
Improve skin appearance and protect it from sun damage
Visibly reduces signs of aging
Reduce the appearance of redness from Rosacea.
I apply this serum twice a day to my face and neck. I make sure to apply it two my dark spots, and I even think that they are a little less noticeable than before.
Like the Fruit Acid Exfoliant, OPC Reparative Serum can be used on the eyelids. I have decided that I am going to try applying it to my eyelids because my lids are red from blepharitis. I am curious to see if it will tone down the red. I didn't realize that anti-redness was one of the benefits of using OPC, so I didn't think of trying it on my lids, but I will.
OPC Reparative Serum also contains hyaluronic acid so I don't need to apply a separate HA serum to get added hydration, yay.
Fragrance and dye-free, OPC Reparative Serum comes in a heavy glass pump bottle in two sizes: 1 fl. oz. ($81) and 1.7 fl. oz. ($115).
Eternox Peptide Creme
Eternox Peptide Creme, I believe, is one of Theraderm's newest skincare products. It is a delightful lightweight, pale blue anti-aging cream that is formulated with patented soluble keratin peptides to reduce lines and wrinkles and increase firmness. It also helps prolong the effects of injectables, if you use them. In fact, the peptides are said to firm neck skin. So maybe I will switch from City Beauty's serum and sculpting cream to using the Theraderm Eternox Peptide Creme to compare the two different systems.
Because Eternox Peptide Creme is formulated with a base of aloe vera, it feels like a gel-cream, and you know how I love that kind of formulation. As far as I can tell, it has no scent.
Eternox Peptide Cream comes in a 1 oz. pump bottle and is priced at $100, if purchased separately.
Ingredients: Aloe barbadensis leaf extract, Acetyl hexapeptide-8, Hydrolyzed keratin, Water, Cyclomethicone, Caprylic/capric triglyceride, Hypnea musciformis extract, Cetearyl alcohol, Glycerin, Glyceryl stearate, Peg-100 stearate, Ceteareth 20, Tridecyl sterate, Neopentyl glycol dicaprylate/dicaprate, Sargassum filipendula extract, Hyaluronic acid, Hydrolyzed Glycosaminoglycans, Biosaccharide gum-1, Palmitoyl-oligopeptide, Palmitoyl tetrapeptide-7, Tocopheryl acetate, Sodium PCA, Allantion, Panthenol, Polyacrylamide, C13-14 Isoparafin, Laureth-7, Sorbitol, Tridecyl trimellitate, Urea, Trehalose, Polyquaternium-51, Polysorbate 20, Carbopol ultrez 10, Butylene glycol, Diazolidinyl urea, Iodopropynyl butylcarbamate, Tetrasodium EDTA, Blue 1 Extracts of: Cucumber, Green tea leaf, Grape seed, Echinacea angustifolia, Comfrey, Chamomile flower and Gelidiela acerosa
My Thoughts
I am really enjoying using the Theraderm Anti-Aging System. Usually, I curate my own face care products, but I must admit there is something quite wonderful about using a group of skincare products that are designed to work together. Although I like the Cleansing Wash, the standouts for me were the Fruit Exfoliant in spite of the natural scent, OPC Reparative Serum and Eternox Peptide Creme. I am especially pleased about the fact that my 2 major dark spots are less apparent.
Theraderm Anti-Aging System is priced at $230. Buying the products individually would cost $264, so the system is a savings of  13%. Theraderm also makes a few travel sets that include mini sizes of the products at very affordable prices that make it possible to try the products first: Anti-Aging Travel Kit with Eternox ($30)  and Skin Renewal Travel System ($25). Theraderm products are sold on the Theraderm website.